What are the benefits of an ergonomic office chair ?
March 29,2022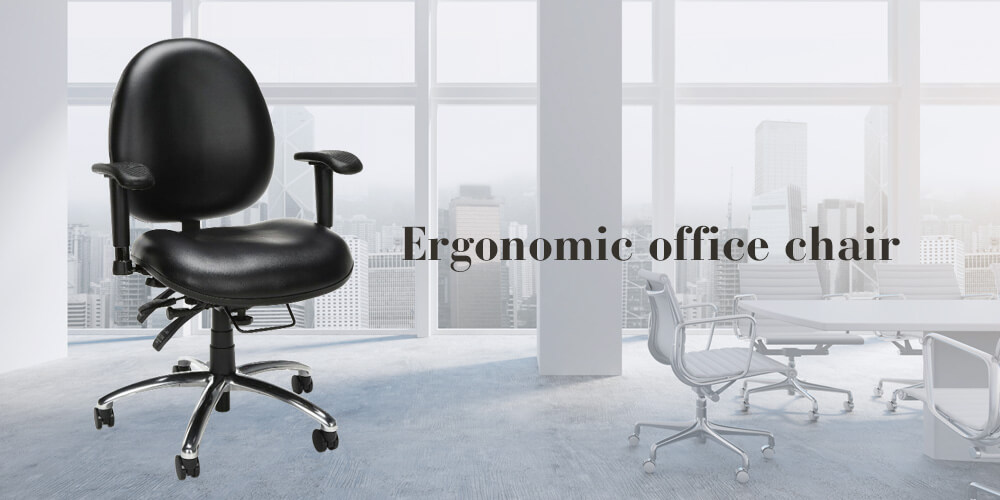 Spending over 8 hours at your office desk would usually increase pressure on your neck, shoulders, back, spine, hip and cause bad blood circulation . In place of feeling productive, what you feel is sore body? Perhaps, regular work chairs may not provide sufficient support for your body. It's time to know how an ergonomic office chair could help you and your work.

What is ergonomics ?
Ergonomics is aimed at user's physiological and physical status, like joints, height, weight and posture. Based on these elements, it develops a product that meets user's requirements whether it's working environment or products. The final purpose is to let user feel comfort and minimize the possibility of injury.

What are the benefits of an ergonomic office chair ?
To induce a appropriate posture
Sometimes when we focus on work, we're prone to ignore to keep the right posture and finally it turns to various symptoms on body. In view of this, sitting posture is the key to alleviate the pain for sedentary sitting. The proper posture is to move your hip close to the rear edge of seat and recline your back on backrest easily and let both feet touch on the ground. (hunchback and cross leg are not allowed) The most important thing is to keep your waist straight up and relax, or any other abnormal postures will extra add pressure on back and further leads to sore body.

Enough support for body parts
A good ergonomic office chair can be adjustable for people with different figures and weights. It should provide comprehensive functions to support body parts from neck, shoulder, back, spine to hip.

Enhance comfort & mobility
Due to its ergonomic features and adjustability, you can find perfect height and angle until you feel well supported to last a couple of hours. In addition, allowing you to induce unconscious movement is significant. With its great mobility, it can help build your core, facilitate blood flow and enhance energy level.

Elements to look for an ergonomic office chair
With the benefits mentioned above, here are necessary elements you need to think about when looking for the desired ergonomic office chair.

Adjustable height: This is necessary so you can switch your seat lower and higher to meet work desk or height better.


Movement: Mechanism is a crucial component to actuate movement throughout a work day. It should include versatile functions from tilting, rocking, locking or swaying chairs that all provide great movement opportunities.


Lumbar support: Whether the high back or lower back should be all well supported while sitting for long periods. Try to find chairs with great lumbar adjustment. This way you can get an excellent fit of chair's back inward curve.


Backrest: The ideal backrest width is 12-20 inches. If it's separated from seat cushion, it should be adjustable in angle and height. Also the backrest shape should fit the natural curve of the spine.


Armrests: If the armrests also include adjustability like direction, width or height, it will be great. It should be easy to adjust so that your arms have enough support when typing.


Seat measurement: The ideal width is around 17-21 inches wide, coming with adjustable backrest to lean backward. There should be about 2-4 inches Between the back of knees and seat cushion.


Seat fabric: The seat should have breathable, stain-proof fabric and good padding, which helps facilitates blood flow.

Who is suitable for an ergonomic office chair ?
Ergonomic office chair is not only suitable for offices but homes. In other words, people who are sedentary behaviors and have prolonged sitting all need it. According to the statistics from our customers' feedbacks, The mainly common parts that workers feel uncomfortable are neck, shoulder and back. If you sits on a regular chair with wrong posture for a couple of hours, keeping it for a period and even repeats this posture for many months, it may gradually harm your sciatic nerve and spine. To avoid this serious problem, you have to choose a good ergonomic office chair that corrects sitting posture and makes you more productive on work.


Conclusion
By now, you may realize that a good ergonomic office chair isn't merely a furniture in workstation; it's an needed investment for future, your health and productivity. Kanewell is an experienced manufacturer in Taiwan for over 30 years and our products all pass ISO9001 & BIFMA certification. We offer a variety of ergonomic office chairs for customers. If you are choosing office chairs suitable for your own business, please don't hesitate to contact us !
【Extension Reading】How to choose an office chair manufacturer ? Purchaser must read