What is Saddle Stool ? The new choice for ergonomics
July 14,2021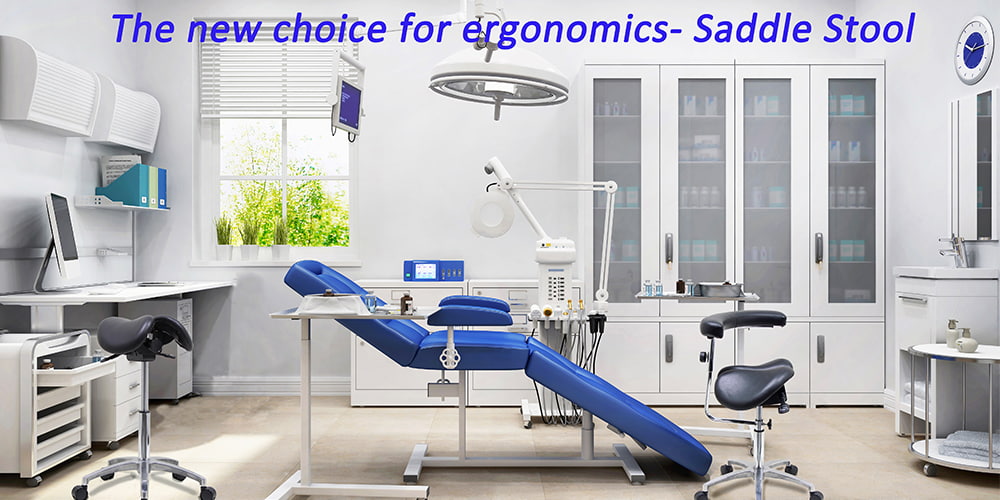 Are you aware that how long do you sit in the office all day ? For normal office workers, they basically take at least 8 hours in a day but it may have chance to sit longer once they need to work overtime or any other special contingencies.

In view of this, it's very significant to choose an office chair that can be sedentary. Today we are going to introduce the new choice of ergonomic chair- Saddle stool, which is suitable for workers needing to sit for a long time. So, let's start why we recommend Saddle chair?


What is Saddle Stool?
Saddle stool can also be seen as office chairs. The inspiration of design comes from imitating the saddle, which places on the back of horse initially. To date, we apply it to OA field.

The Saddle chair has many advantages. Its outlook is similar to saddle and more ergonomic than traditional office chairs. It not only adjusts seat width, posture and height but provides mobility to workers needing to sit and move frequently. And the most importantly, it helps us sit in an upright vertical position and the pelvis can be in its neutral upright position and have the spine support the upper body. This will prevent and rehabilitate back problems simultaneously.

How many types do Saddle stool include ?
Once-piece Saddle stool
The one-piece Saddle chair is the most classic type. Its once piece design is simple, functional and aesthetic. It adopts sturdy steel seat frame and thick mold foam seat, which can relieve spinal and pelvis stress effectively.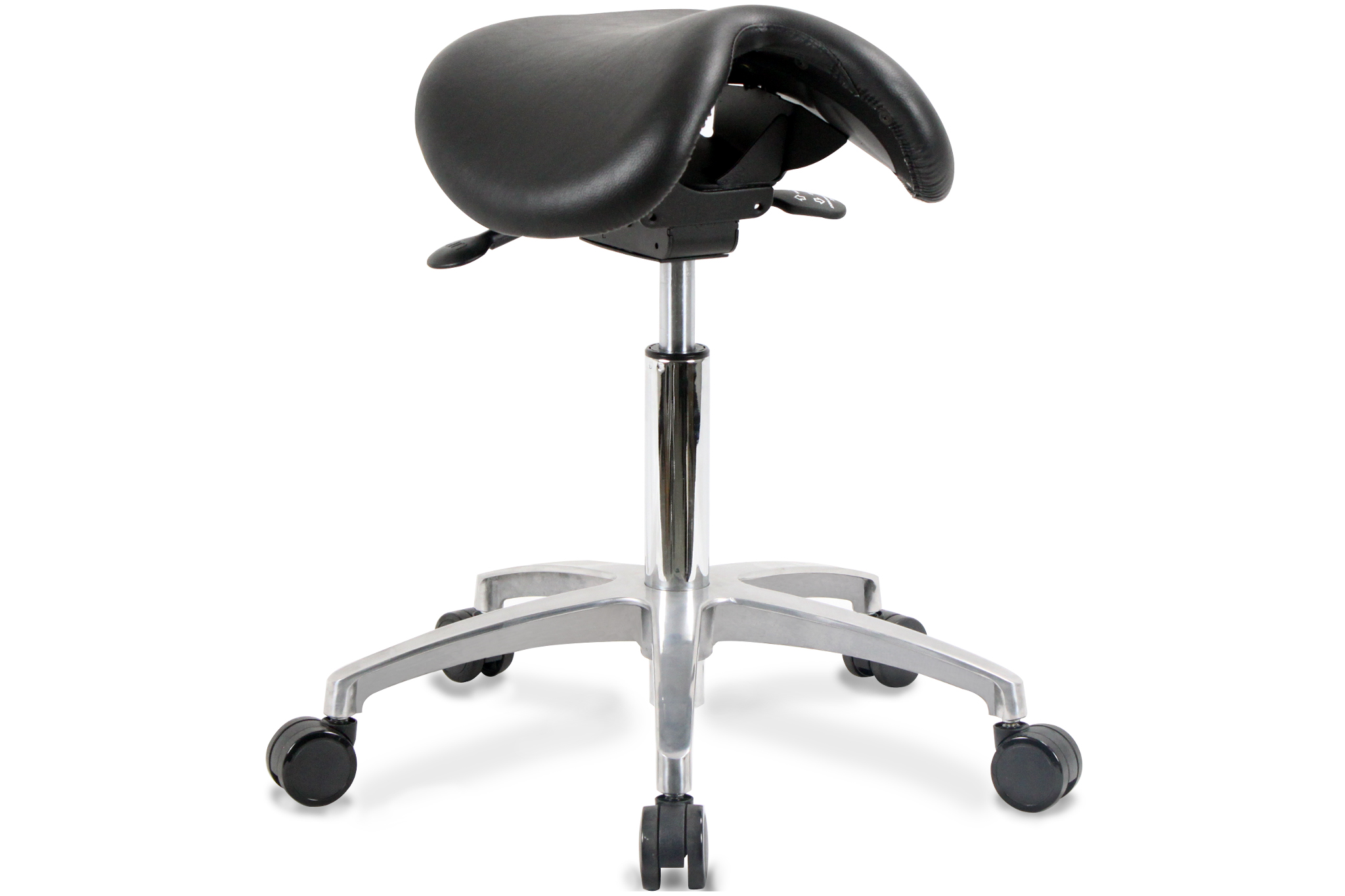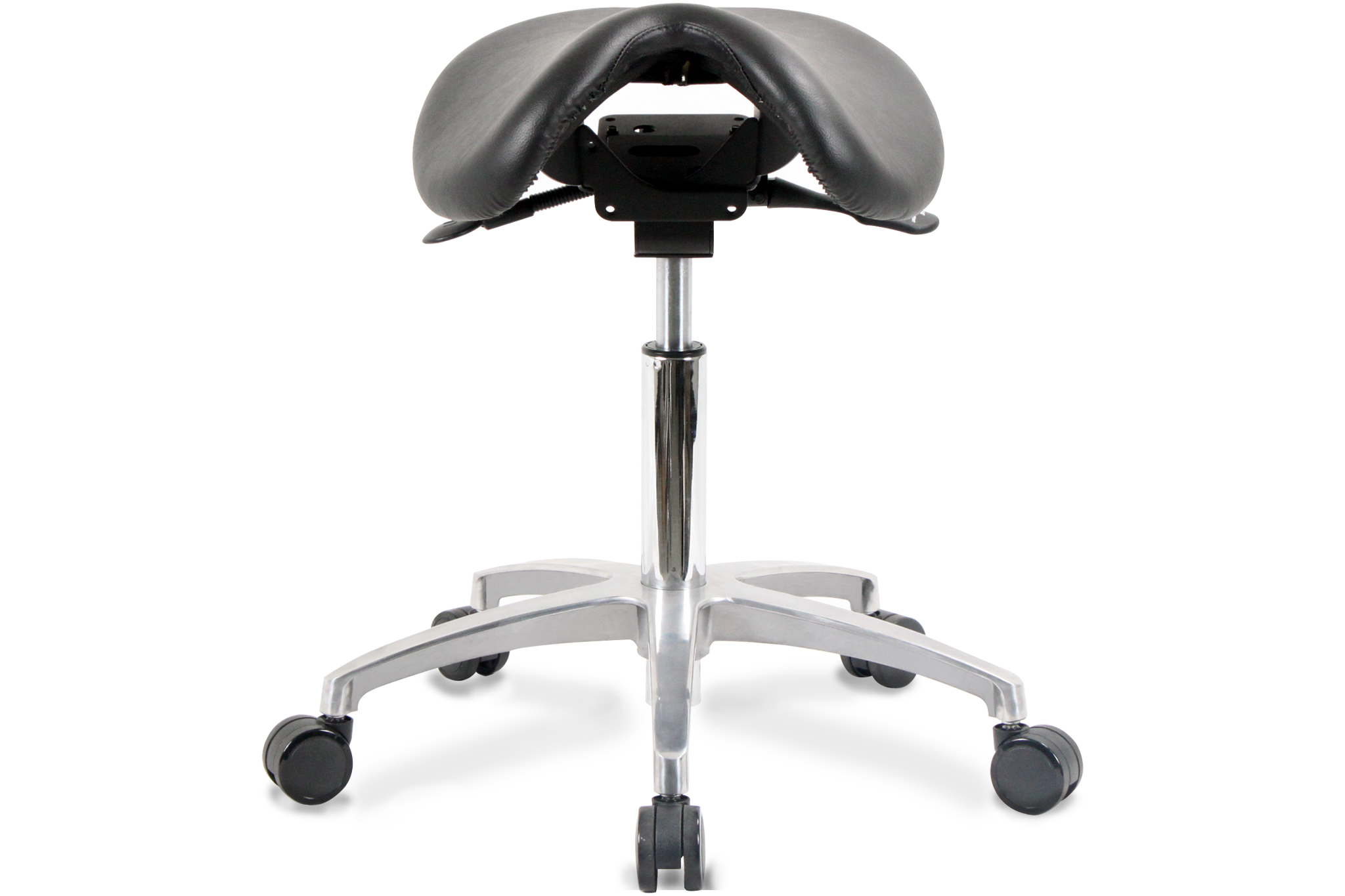 Twin Saddle stool
The Twin Saddle chair is comprised of two pieces of seat cushion with center in hollow design. Our innovative patent design-central knob between two seat cushions can freely adjust seat width so that workers will have the most comfortable posture and won't be limited by figures.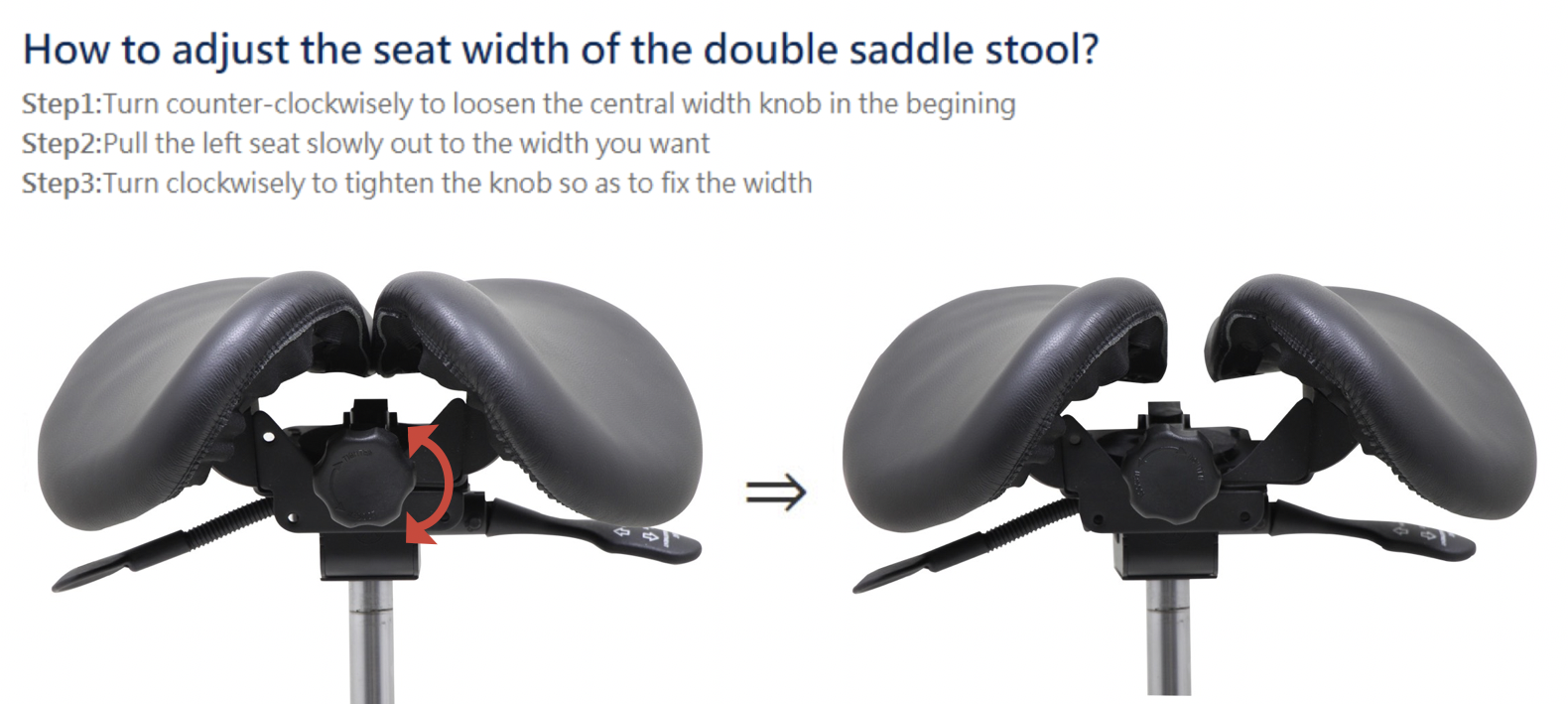 Backrest Saddle stool
As its name implies, it is also the saddle chair but extra add backrest. Kanewell backrest saddle chair comes with adjustable back angle & floating function on the back shell ( floating angle around 17°~20°), providing the most reliable support for back.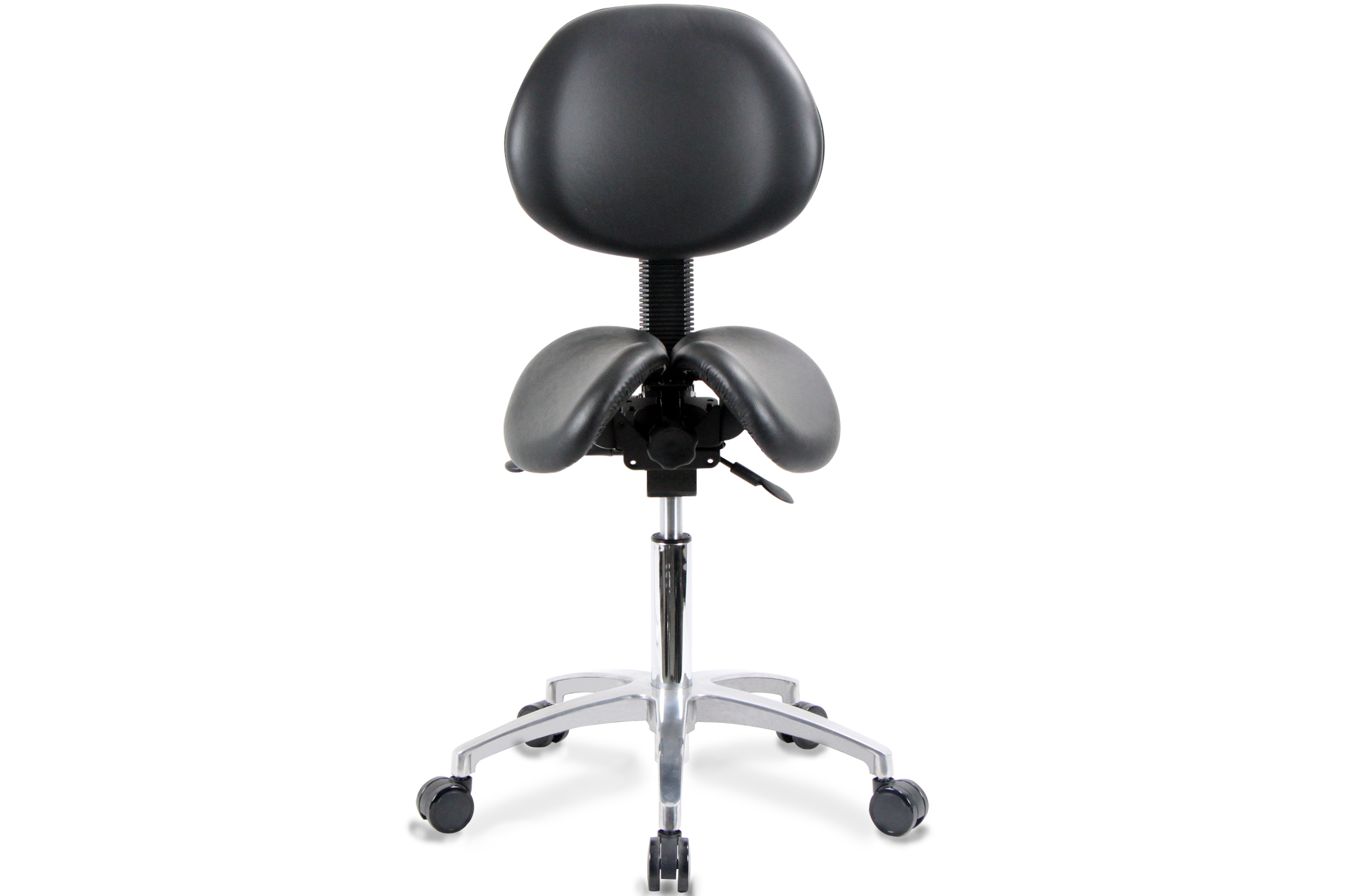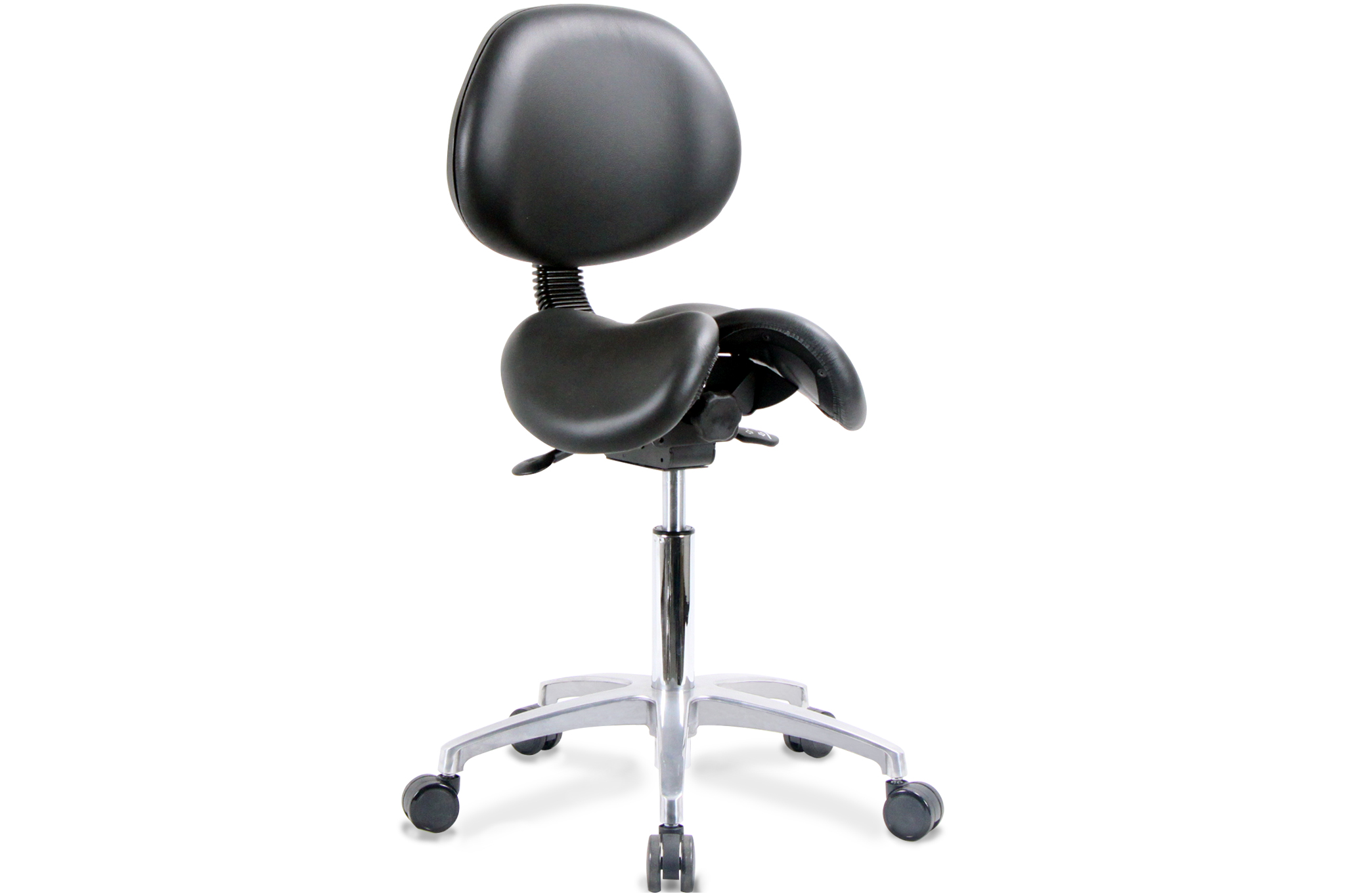 [
901SBL series saddle stool
]

Armrest Saddle stool
The saddle chair designed with armrest is the most popular type for surgeons and dentists as they need more time to execute and focus on their work while sitting. With Kanewell's exclusive design, the arm can be easily rotated at 360° and locked on left, middle and right side respectively, giving workers every position they want and provides comprehensive support for back, arm and chest.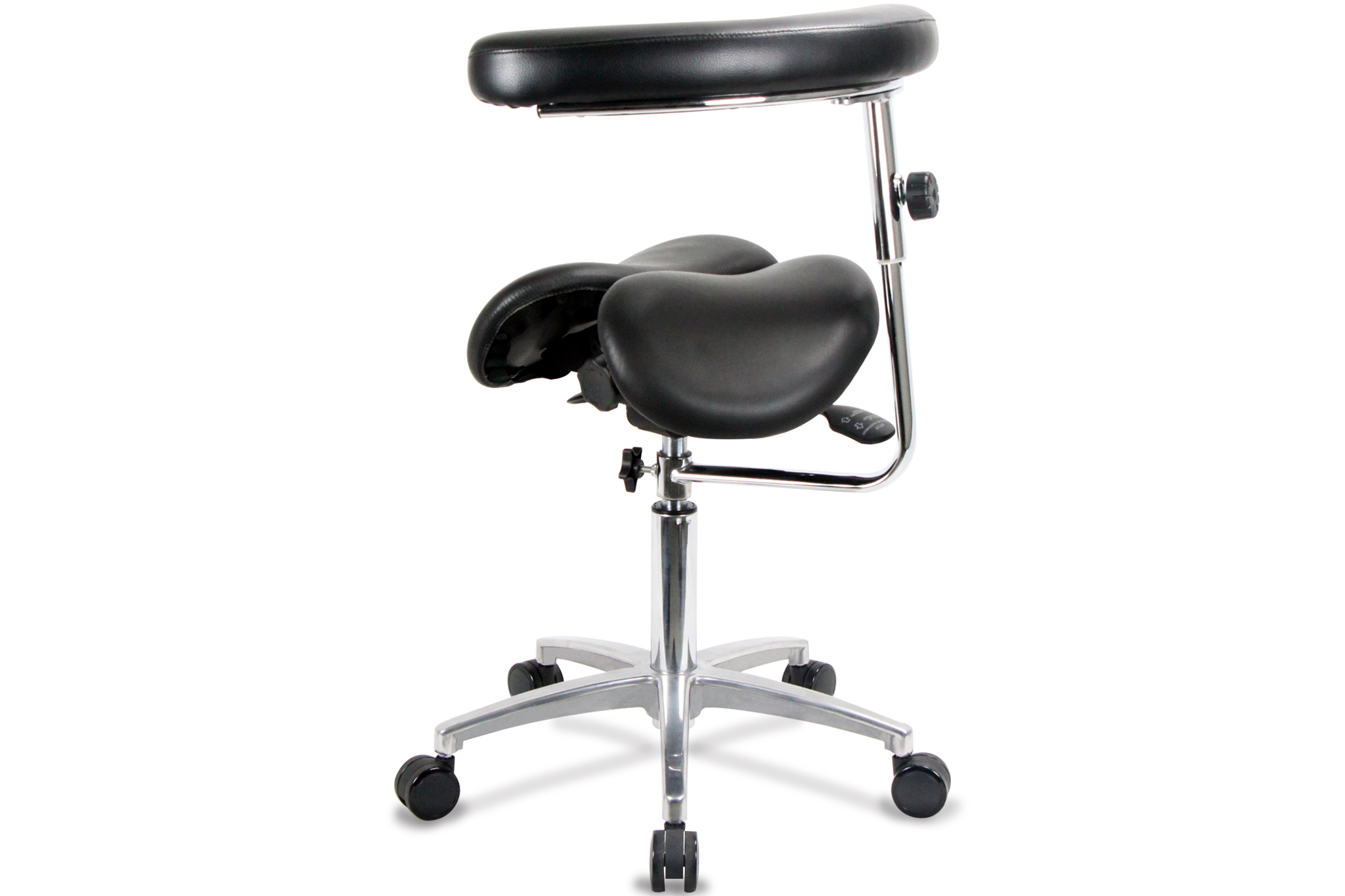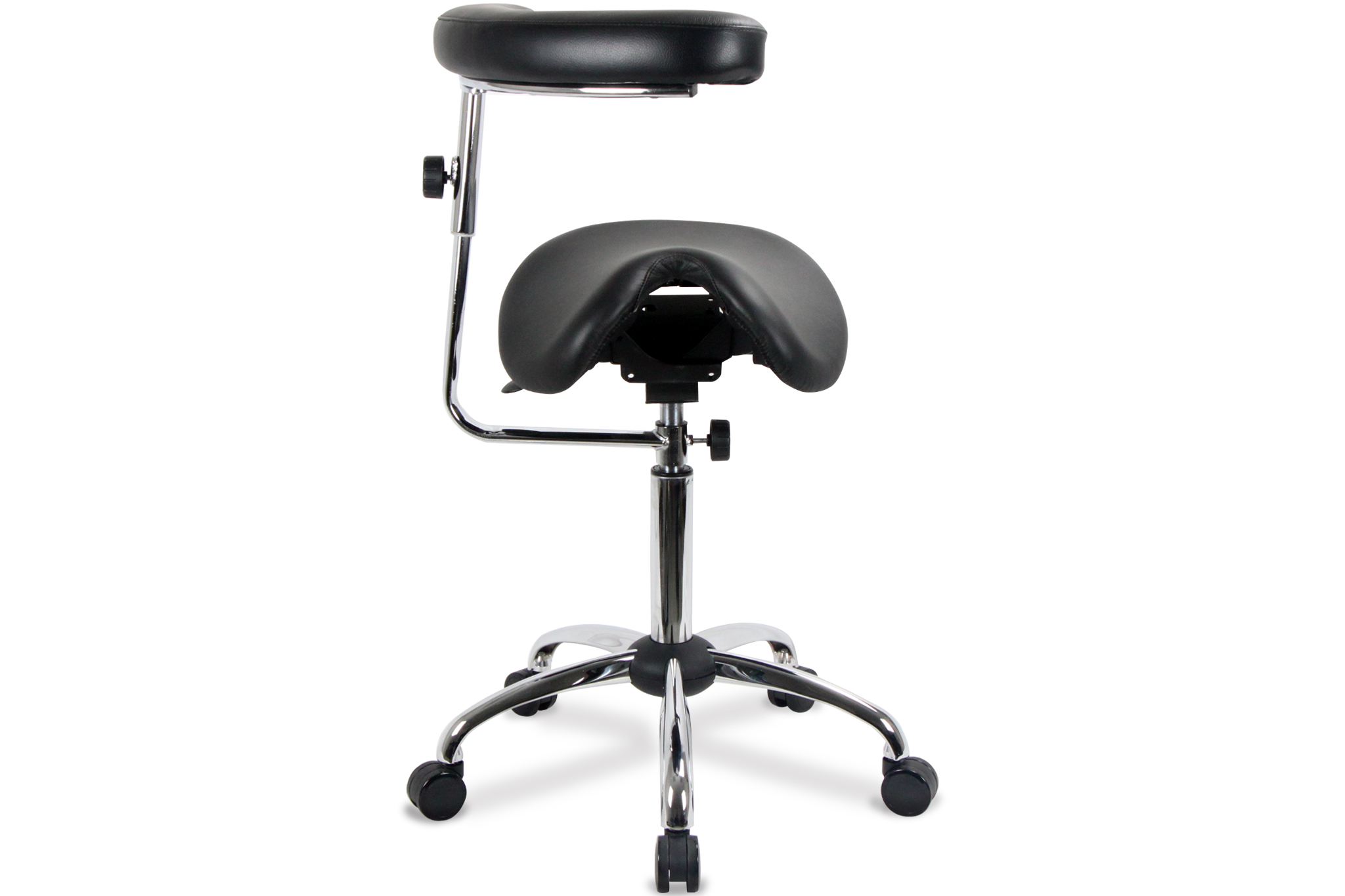 [900SAL/
901SAL Armrest saddle stool
]


What benifits do Saddle stool bring to our body?
Improve circle blood of body (circulation) while sitting
Sitting too long will cause bad circulation to our body, especially that we keep the same sitting posture for a long time every day. It will affect our metabolism badly in the long term. The best advantage of Saddle chair is workers can have a personalized fit by adjusting seat width & posture simultaneously.

Maintain the right sitting posture
Keeping the right sitting posture won't cause much burden on our body. Saddle stool can help workers keep spine aligned and stimulate concentration of core muscles and support pelvis at right position while working.

Alleviate the pain of back and shoulder
When sitting, our lumbar vertebrae will bear double pressure than standing, so workers who are sitting too long will tend to have more fatigue than standing, especially the pain in back, neck and shoulder. Saddle stool can provide an unburdened, standing-like and positive way to sit in balance. Also, by correcting back posture, the stress from back, neck and shoulder will be alleviated.

Enhance mobility, improve working efficiency
Saddle stool is different from regular stool. It meets ergonomic standard. One of features Kanewell saddle chairs series have is PU casters, which is durable and provides grip to let users move quickly and improve working efficiency.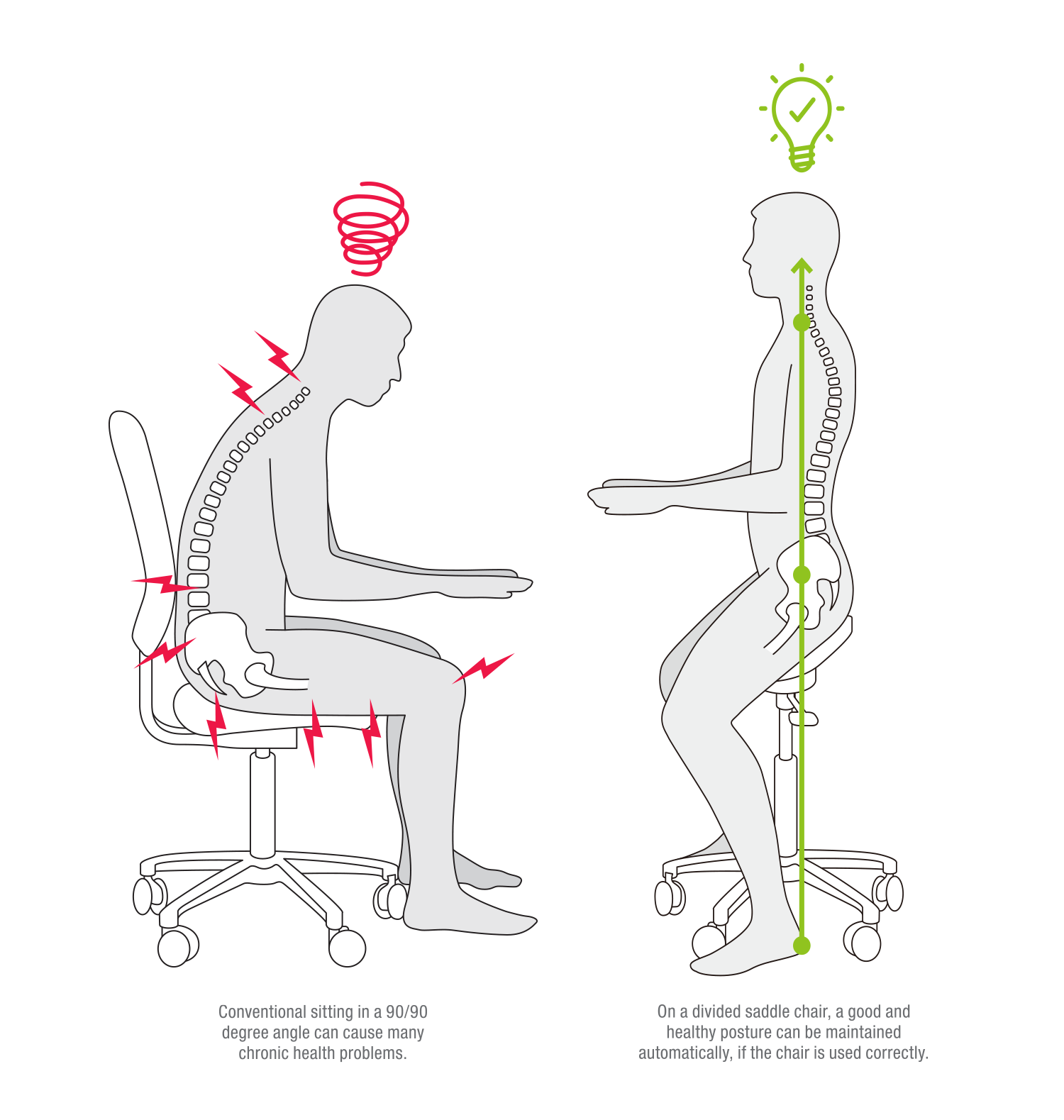 What kind of workers are saddle stool for ?
Saddle stool is very suitable for workers who need to sit and move frequently especially for dentists, doctors, surgeons, researchers in laboratory or hair stylist, and so on. It's not hard to avoid the pain from body when sitting too long as long as we grasp three principles : 1. Maintain correct sit posture 2. Choose a right chair 3. Stand up and stretch your body timely. Choosing a good saddle chair can help us improve sitting posture and relieve uncomfortableness from prolonged sitting.

In comparison with Twin Saddle stool & traditional office chair
| | Kanewell twin saddle stool | Traditional office chair |
| --- | --- | --- |
| Support | Good. Saddle stool has a exceptional seat frame design and provide enough support for lumbar & pelvis. | Bad, can't provide full support for lumbar & pelvis. It's easy to feel pain once sitting for a long time. |
| Weight | Aesthetic outlook and compact size. | Big & heavy size takes up a lot of space. |
| Ergonomics | Yes, workers can have a personalized fit by adjusting seat width and posture simultaneously so as to alleviate body pain from prolonged sitting. | No, traditional chairs can't adjust seat width and posture easily and it's easy to lead to unhealthy sitting posture. |
| Stability | High. Kanewell exclusively develops components and has own mold for saddle seat frame and unique central knob to adjust seat width gets USA, EU, Japan patent certification. The high quality is trustable. | Use common parts in the market, rarely have own mold. Parts are easily worn out. |
| Features | Adopt molded foam with high density 57±5 kg/m³, durable and support lower body.The central knob on seat frame can easily adjust seat width. | Regular cutting foam with low density, tends to be elastic fatigue and add the burden of lower body. |
| Comfort level | ★★★★☆ | ★★☆☆☆ |
Why choose Kanewell saddle stool ?
What's the difference between Kanewell saddle stool and others in the market? Starting from initial design, selection of components & leather, production to assembly, Kanewell controls all procedures. In other words, we have a price advantage and can relatively provide saddle chair with high cost-performance ratio. You can buy higher-quality office chairs at the same price. The most special feature is our exclusive patents in USA, EU and Japan (seat cushion tilt angle adjustment, central rotation control axis to easily adjust the seat width), high density & molded cushion foam, durable PU wheels, etc., making Kanewell absolutely the best choice for you to experience.

See our patents


【Here's the ratings from Ergonomics Health Association, Kanewell saddle stool is listed in its 2021 rankings for the best ergonomic Saddle stools.】
Ergonomics Health Association Article Link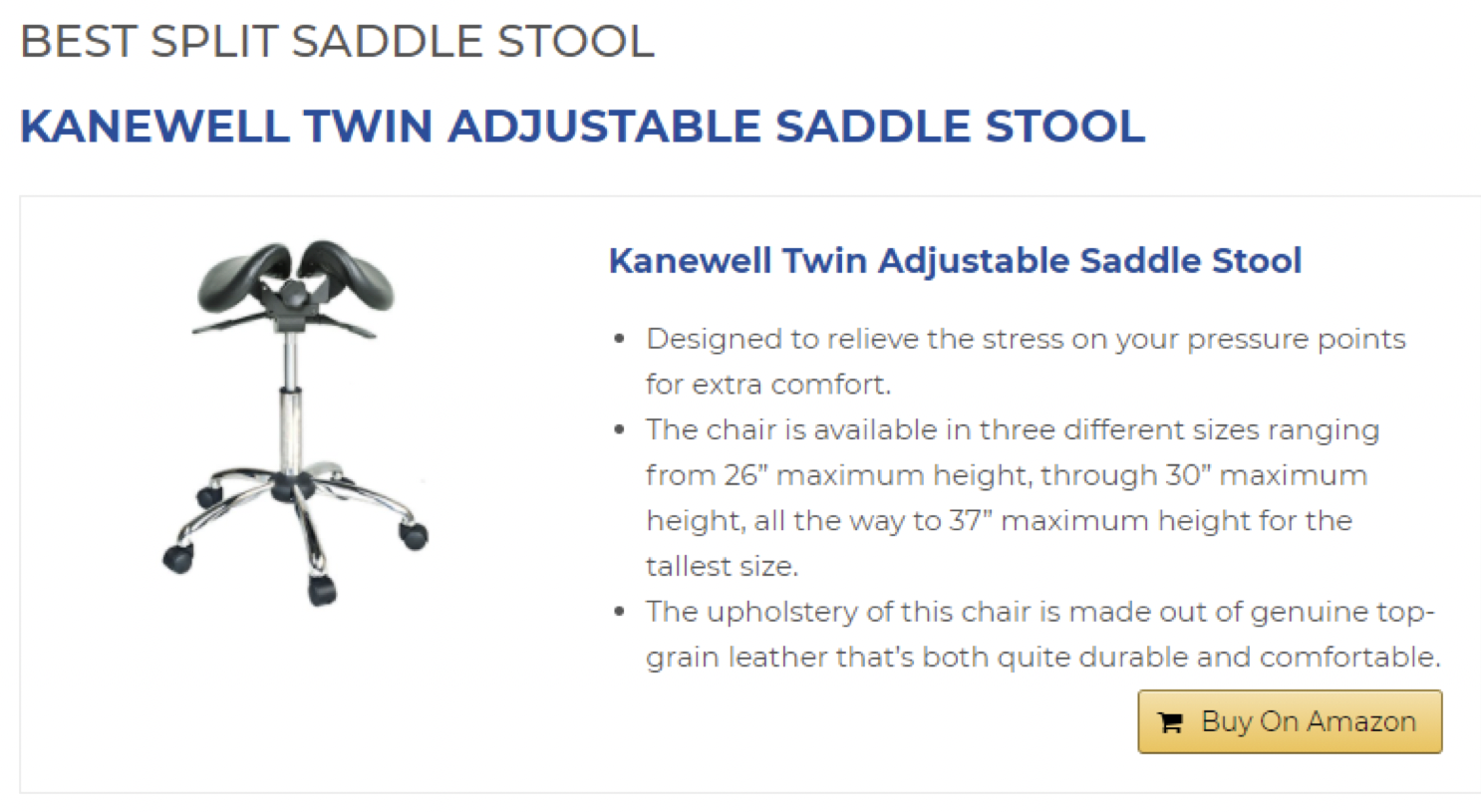 Conclusion
Kanewell is an OA manufacturer in Taiwan for many years, We holds the spirit of innovation & breakthrough in OA field continuously and roll out all kinds of saddle chairs.

Saddle stool is applicable to anyone who needs to sit for a long time and move often. Our R&D team has newly developed molded seat foam with ergonomics and high density 57±5 kg/m³, which supports your lower body thoroughly and provides you absolute comfort & durability. Besides, with pneumatic height & posture angle adjustment, patent central knob to adjust seat width easily, Kanewell saddle chair is the best choice undoubtedly for you to work. If you have interest in becoming our distributor or wholesaler, please don't hesitate to contact us.