Mesh chair is one of the best choices in the office
January 04,2022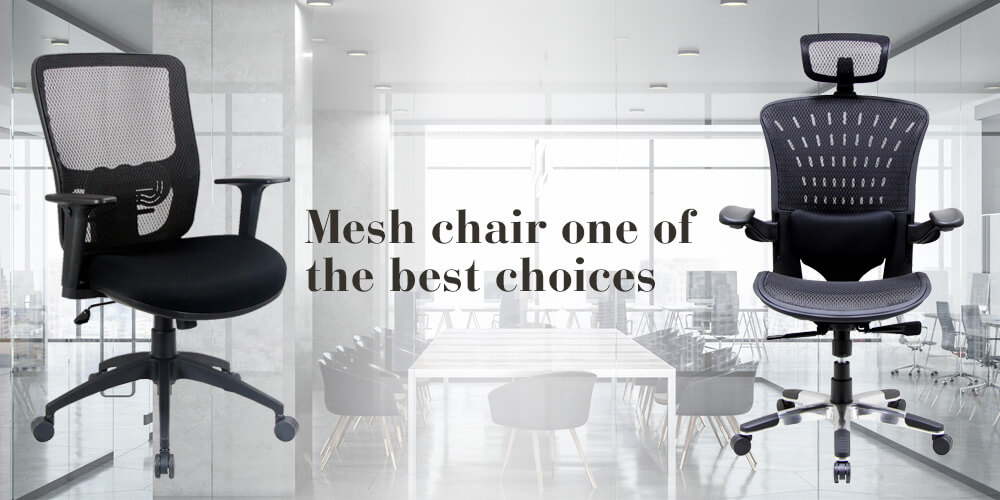 It's important for sedentary workers to choose an ideal office chair. Choosing an ergonomic chair can keep us from sore body and stay with comfortable posture. In comparison with normal office chairs, the major advantage of mesh chair is its net fabrics, which provides heat diffusion, breathability and enough buffer to alleviate stiff body. This article will bring more details for mesh chairs.

About mesh chair
In brief, its frame (back / seat ) is upholstered by mesh fabric, which replaces traditional office chairs using the foam as cushion but still remains equivalent support and buffer or even better. Another advantage of mesh is its breathability and heat diffusion, which eliminates stuffiness while sitting for a long time.

The keys to choose a mesh chair
How to find a good mesh chair ? Besides net fabric quality and weaving skills, the back frame and seat cushion design that could meet different figures via adjustability and scatter pressure from spine and hip matter. Please go on following points :

Good breathability and resistance of net fabric
Mesh chair provides good breathability, heat diffusion and aesthetic outlook overall, which has always been the main stream in OA field for many years. Especially in summer, this advantage is obvious to see. When spending too much time in the same sedentary position or in unventilated space, traditional office chairs padded with normal polyester fabrics will quickly get stuffy, which tends to lead to discomfort and even affect working efficiency.Another important factor is net quality. The common material on mesh is nylon net but the texture may be discordant in the market. How to differentiate good or bad ? The weaving and padding skills are the keys. The good weaving skill assures net have great quality and durability ; the good padding skill relates to good tension and moderate elasticity. These two keys will react to personal feeling when sitting. In other words, the mesh back and seat cushion should support your weight and match body curve, helping alleviate back & hip pressure.

Adjustable seat / back frame
The ideal sitting posture is the thighs are parallel to the ground and the knees are bent at about 90° to let feet naturally step on the ground. This is the most ideal height. It can not only increase the stability of the body, but also protect your spine. In view of this, adjustable seat height and ratchet back can provide comfort for different size people simultaneously. Kanewell's mesh chair includes unique adjustable lumbar support and ratchet back with five positions. Anyone will find appropriate sitting posture matching your own figure.

Ergonomic design
Besides above features, the mechanism function is also a significant element. Kanewell adopts multifunctional & synchronized mechanism to have workers easily adjust seat height/depth/tilt and back angle.To sum up, all the features form an ergonomic mesh chair. None of these features can be excluded.

Mesh office chair recommendation
Kanewell Executive Mesh 171MAM
Unique lumbar support and ratchet back design with 5 positions including large area mesh back and thickened mold seat foam up to 300 LBS capacity , 171MAM is suitable for different sized people and one of our hot selling items in US !
[Executive Mesh 171MAM]




Kanewell Executive Mesh 172HAM
Ergonomic 24/7 big & tall mesh chair, adjustable lumbar support, arm, seat height, headrest and synchronized mechanism to have 4 angle positions to fix. Fashionable mesh frame design with perfect net weaving and padding, 172HAM gives excellent and comfortable experience. It's manager's favorite !
[Executive Mesh 172HAM]





Conclusion
This article shares main keys to choose a good mesh chair. Kanewell is an experienced manufacturer in Taiwan for over 30 years and our products all pass ISO9001 & BIFMA certification. We offer a variety of mesh chairs for customers. If you are choosing mesh chairs suitable for your own business, please don't hesitate to contact us !
【Extension Reading】How to choose an office chair manufacturer ? Purchaser must read
【Extension Reading】Recommended industrial office chair