How to choose a dental saddle stool ?
August 22,2022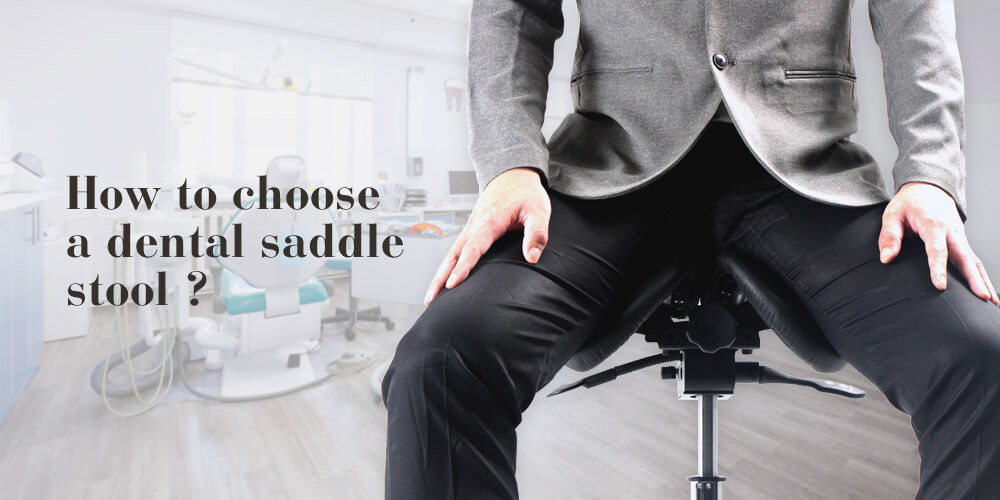 All dentists and surgeons must have saddle stools on hand ! In general there're a lot of medical devices and equipments in clinics, so if doctors choose a traditional office chair as a work chair, it will cause inconvenience while executing operation because of limited space. However, saddle stool can solve this problem. It is featuring with compact size than normal office chairs, great mobility and suitable sitting posture. Here are some view points about how to choose a dental saddle stool.
How many types do saddle stool have ?
In general, there are one piece saddle , twin saddle and it can extra add backrest or armrest. In comparison with traditional office chairs, the seat cushion that saddle stool brings help spine aligned and stimulate concentration of core muscles and support pelvis at right position. Our Armrest saddle stool 901SAV-2F-AB is the dentists' favorite. the arm can be easily rotated at 360° and locked on left, middle and right side respectively, giving dentists every position they want and provides comprehensive support for back, arm or chest.
【Extension Reading】What is Saddle Stool ? The new choice for ergonomics

How to choose dental saddle stool ?
Height
The same as normal office chairs, saddle stool can adjust seat height. We provide different sizes of gas cylinder ( different strokes) per customers' needs. It means people with different height all can find suitable seat height.
Seat cushion
The seat cushion decides if a saddle stool is good or bad. Unlike traditional office chairs' seat cushion that are mostly flat with big area, saddle stool seat cushion is designed to fit people's hip and thigh curve, helping concentration of core muscles and facilitates blood circulation.
Besides, unique seat width adjustment applies to different figures and easy seat tilt function, Kanewell saddle stool can be reliable for doctors at work !
Backrest
Like traditional office chairs, saddle stool can extra add backrest. It depends on doctors' preference. However our designed backrest has a floating feature, the floating angle is around 17°~20°, which greatly alleviates back pressure.
Arm
Kanewell's unique armrest design provides excellent stability and support when doctors are executing some sophisticated works or rest their arm. It also helps alleviate knee's pressure as a point of application when standing up from seat. 360° multifunctional support for doctors' back, arm or chest. Its direction and height are also adjustable, which gives doctors' the most comfortable feeling.
[Patent Armrest Saddle Stool 901SAV-2F-AB]

Foam
The quality of foam is also significant. Using cut foam on seat is very common in the market , but its reliability and comfort is limited. We spare no cost to adopt molded foam with high density 57±5 kg/m³ on saddle stool series, providing excellent elasticity, support, air permeability and durability.
Casters
Smooth moving is important as well. Dentists need to move frequently to execute works. PU casters will help a lot. Featuring with good grip and durable, it will help users move frequently and facilitate work efficiency.
Dental saddle stool recommendation: Kanewell chairs
That is to say, we can provide the most comprehensive saddle stool series in the market to fulfill various needs. Kanewell owns USA/EUROPE patent for saddle seat frame design (with central pivotal knob to adjust twin saddle stool seat width easily) and knows what doctors needs, which is definitely the most trustable brand !